I
gave my Mom and Mother-in-law a journal jar this past Christmas. Not exactly like the one pictured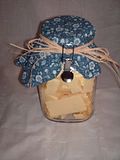 here
in which I didn't realize at the time that people makes them and sells them. I got the idea from a genealogy group email. I thought it was silly at the time, but since then Megan has given one to her Mother-in-law. My Mom has told others about it and I've had to send her copies of the questions. Now I just wish I had knew of it while my Grandmother was still living. Oh the stories I'm sure she could tell.
My Mom tells me occasionally some of the questions are silly, some questions brings back memories that she had forgotten, or the most recent one yesterday our opinion of the difference between traits, and characteristics.
I put the questions on individual cards and placed them in a jar as the picture shows. But she has been putting the answers in a journal book. I can't wait until she is finished. I'm really hoping to somehow make copies for any of our family that wants it.
I encourage anyone that has ever thought about wanting to know more about their parents childhood. Or their true thoughts of raising you as a child. lol Give them a journal jar. It doesn't have to be in a jar. You can buy a journal book and give them a copy of the questions and let them answer them in the book. It's very simple, just google journal jars. I still have a copy of the questions I used, just leave me your e-mail and I will send them to you.